Promoting Advances in Eye Care Treatment
—Until We Revolutionize Eye Care
When we hear "advances in medical treatment", we usually think about medical technology advances.
There have certainly been major innovations in eye care treatment techniques.
The success of retinal pigment epithelial sheet transplantation and the world's first actual use of the iPS cell have contributed greatly to the future of regenerative medicine.
However, we do not believe that treatment advances in treatment are limited only to technological advances.
We always question ourselves, what is the true meaning of "treatment"? Is it providing continuous support to patients to enable them to lead as full lives as possible and play an active role in society, pursuing their goals? Is it also changing social awareness for patients? Kobe Eye Center is the world's first-ever effort to combine a regenerative medicine research facility, a state-of-the-art medical eye care treatment center, and physical and social rehabilitation services all under one roof. We, at Kobe Eye Center, warmly and openly welcome all those with eye-related concerns—those who need expedited medical treatment, those who wish for social rehabilitation, and even those who worry about minor ailments.
GREETINGS
Our medical eye care team has become well-known in various ways due to its involvement
in the world's first use of the iPS cell.
However, since the iPS cell technique is only one technique among many, the motivation driving our research and goals has long remained unchanged—we continue to strive tirelessly to improve the lives of patients we encounter in the hospital. Currently, we are pursuing our goals of improving patients' lives in various ways. Through our sustained efforts to push the envelope and continue to achieve new and challenging goals, we have achieved our ultimate goal by opening the Kobe Eye Center which is the realization of our long-held dream. We had been telling people for quite a long time that we wanted to open an eye center and thanks to the iPS cell and the contributions of many people, we have been able to achieve our dream!
We are often asked what kind of center the Kobe Eye Center is. In short, it is an ever-evolving work-in-progress that incorporates many eye-related functions, with more to be added in future as needed consistent with our overall concept. While continuing to evolve, we strive to create an oasis where those with visual impairment and those concerned about eye diseases can feel safe and comfortable.
To be as flexible as possible to create a comfortable place for patients, please visit us and share your thoughts with us.
Masayo Takahashi
FACILITY
Inter-functional structure
Various eye-related facilities, including a research institute, cell processing center (CPC), hospital, and low-vision care center, are functionally structured in horizontal and vertical layers to facilitate the organic functionalities among the various facilities.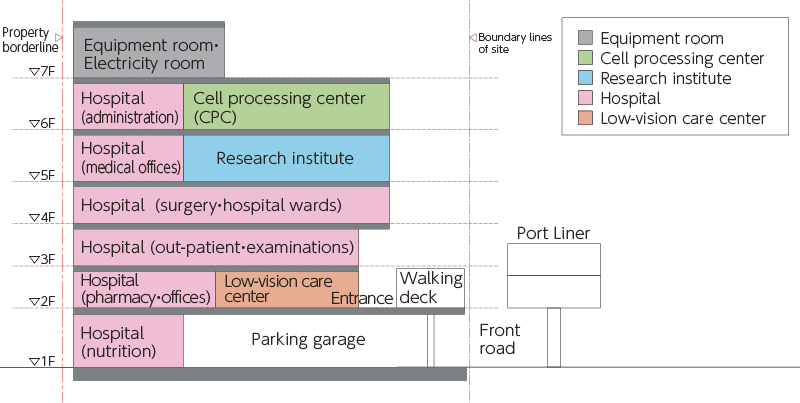 Outline of Facilities
Facility's Name

Kobe Eye Center
Location 

2-1 Minatojima, Minamimachi Chuo-ku, Kobe, Japan
Site area

2,000㎡
Total floor area

8,583.67㎡
Structure・scale

Steel frame building・7 stories above ground
Date of commencement of services

December 2017
Facility Overview

[Heating・air conditioning equipment]

heat pump chiller system, packaged building air-conditioner, type 1 and type 3 ventilation systems


[Sanitation system]

water supply (pressure pump), hot water supply (central and individual systems), drainage (waste water, miscellaneous water, rain water), fire extinguishing (sprinklers・foam・connected water pipes・easy automatic fire extinguishers), gas (oxygen・air for therapeutic use・inhalation・nitrogen・non-therapeutic use air), specialty gases (carbonic acid)


[Electric equipment]

reception transformer, power generation (emergency use, tenant use), electrical power (main line, electric power, light bulbs, DC power source, lightning protection), communications (internal lines・PHS・nurse call buttons・interphone button・common television antenna・surveillance cameras・entrance/exit controls・broadcasting・automatic fire alarms), central surveillance system.


[Elevators・delivery equipment]

1 for outside patient use, 1 for delivered packages, 1 for beds, and 1 for researchers Escalators: 2 Exclusive elevator for packages(30㎏):1
TRANSPORTATION / ACCESS
The Kobe Eye Center is located on Port Island, Kobe.
For visitors coming by car
From every direction, it takes about 15 minutes after crossing Kobe's Ohashi bridge,
You can also drive through the Sannomiya East Minatojima tunnel to the Port Island.
For those using the Hanshin Expressway
For those using Route 3 Kobe line

Please exit at the Ikutagawa IC or the Kyobashi IC and follow signs to Port Island.

For those using the Route 5 Bayshore Line

Exit at Sumiyoshihama IC, follow the signs to Port Island via the Harbor Highway.
Parking
Parking is available for 24/7
Fees: 160 yen per hour (up to maximum of 1,500 yen per day)
Depending on the reason for use, 1-3 hours of free parking may be available. 1,000 yen /day is the maximum parking fee.
For visitors coming by Port Liner
2 minute walk from the Iryo Center station
For visitors coming by bus
Shinki buses run from Sannomiya Station and Kobe Station.
For visitors coming from Kobe Airport
2 minute walk from the Port Liner Iryo Center station